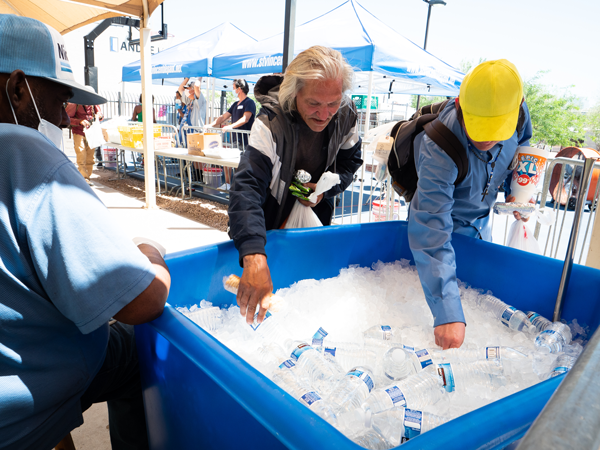 Give water to save lives this summer!
ABC15, Bashas' and Food City team up for annual water drive to help SVdP offer water relief
In the summer months, St. Vincent de Paul will give out more than 7,000 bottles of water a day to people in need who seek services and refuge at the nonprofit during Arizona's most grueling season. That's a 25% increase in demand from last year's busiest summer month and about 6,500 gallons disbursed weekly.
That water doesn't magically appear. Sometimes SVdP buys it in bulk. Just one week of water costs the nonprofit almost $7,350 (or a little more than $1,000 per day).
But other times community partners like ABC15, Bashas' and Food City step up to help us meet this basic but critical need. They are teaming up again this year for the ABC15 Water Drive from June 1-30 benefitting SVdP.
How to Donate:
$5 = 34 bottles
$10 = 68 bottles
$25 = 170 bottles
$50 = 340 bottles
$100 = 680 bottles
All monetary donations will go toward purchasing water for SVdP guests.
Without the water donations on which SVdP water relief depends, people in need risk dehydration or worse – heat related illness that can quickly turn deadly. In 2022, Maricopa County saw more than 425 heat-associated deaths with a significant number of whom were people experiencing homelessness.
"Our community is in the middle of a homelessness crisis, one that St. Vincent de Paul responds to every single day," said Shannon Clancy, SVdP's Rob & Melani Walton Endowed CEO. "As temperatures rise and extreme heat sets in, we'll face two crises on top of each other. Without enough regional shelter, water relief will be the most immediate way to save the lives of some of our most vulnerable neighbors. I ask that you please consider joining ABC15 alongside Bashas' and Food City as they collect water for SVdP during our 100 Days of Summer campaign. Every caring heart, every donation, each moment of compassion will count during this life-threatening season."
"Water is a critical, and life-saving resource. From emergency response to everyday access, St. Vincent de Paul is at the forefront of providing clean water to communities across Arizona," said Steve Mayer, Chief Operating Officer for Bashas' Family of Stores. "We are proud to continue supporting these important relief efforts through partnership with ABC15 and St. Vincent de Paul."
Last year the ABC15 Water Drive topped one million bottles of life-saving water. Help us cover the entire heat season again, and keep people alive.

Donate online today to the ABC15 Water Drive
Help SVdP offer water relief