Remote video URL
A veteran's journey of healing, hope and finding home
After a sudden amputation, Darren Collins needed more than housing. He needed Ozanam Manor.
Home means something different to each of us. For Darren Collins, it's a place to call his own. A place surrounded by family, in the neighborhood he grew up in, filled with the laughter of his grandkids.
It would take St. Vincent de Paul's transitional shelter, Ozanam Manor, to help him find home. But his journey getting there started long before he became a resident.
With his stepfather in the Air Force, Darren moved around a lot growing up. In his four years of high school, he went to four different schools, including graduating in Okinawa, Japan. Later, a stint in the U.S. Army stationed him around the world. Even during his post-military career as a forklift driver, Darren spent time in Kansas, Arkansas and Arizona.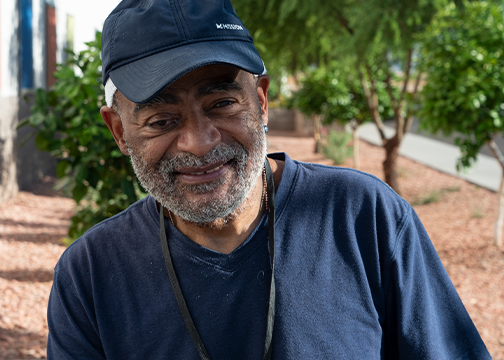 As he got older, his neuropathy, diabetes, and declining vision in his right eye forced him to retire. At first, he lived with his sister in a rental in Phoenix while applying for disability benefits. But when the landlord sold the house, Darren decided to move in with his 89-year-old father in South Phoenix. Luckily, he had secured his benefits shortly before.
They were doing okay, until Darren got an infection in his left foot. He tried to take care of it himself, but his diabetes complicated matters. He called in a home health nurse, who would wrap his feet three days a week, but the infection was persistent. One day, he unexpectedly passed out and woke up in the hospital, missing his left foot. Unsure of how he got there, the doctor told him that the infection had gotten down to the bone, forcing them to amputate.
When Darren's younger son Chi heard what had happened, he quickly made the move from Kansas City, Missouri, to Phoenix to help.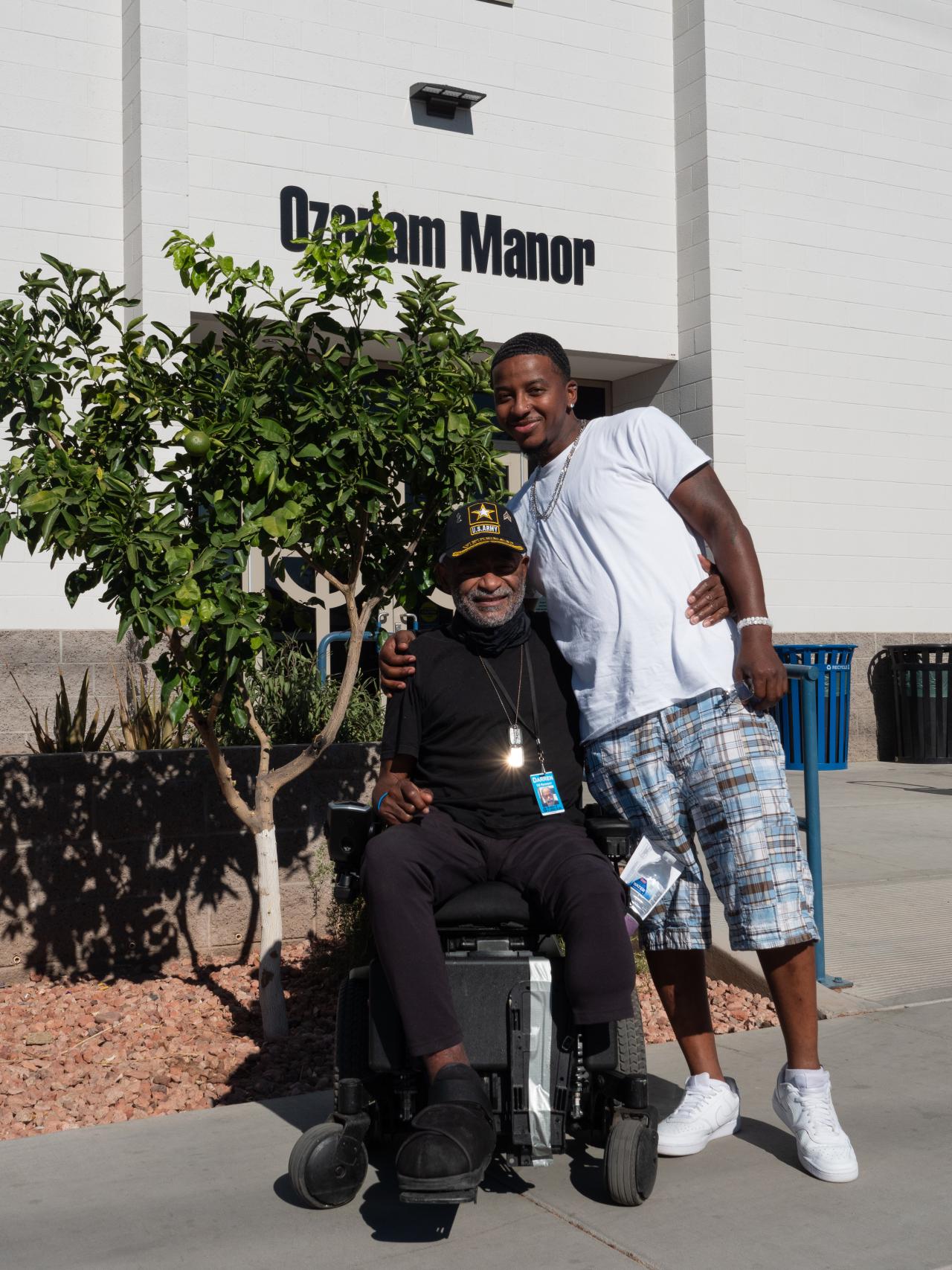 "It was a shock at first him, you know, losing his leg," Chi said, "because I thought he'd be discouraged or down, but he was excited and happy to live."
What wasn't certain was Darren's living situation, given the care he would need. After the hospital, he went to a rehab center to continue his recovery. As the time to leave rehab approached, Darren knew he needed to find a housing solution. His sister came to pick him up from rehab.
"I got in the car with my sister," he remembered. "And she said, 'You know Pops. He's 89. He ain't gonna be able to handle you the way you are in your situation.'"
Unsure where to go, Darren decided to reach out to Veterans Affairs, which referred him to SVdP's Ozanam Manor, a transitional shelter for veterans, seniors, and adults with disabilities. There, residents receive support and resources to bridge them to permanent housing. The facility has 60 beds with 25 set aside for veterans like Darren.
Keep veterans like Darren sheltered
Support Ozanam Manor
Living at Ozanam Manor gave Darren the peace of mind to be in a safe space with daily meals while he worked with his case manager, Esther, to find a place to live.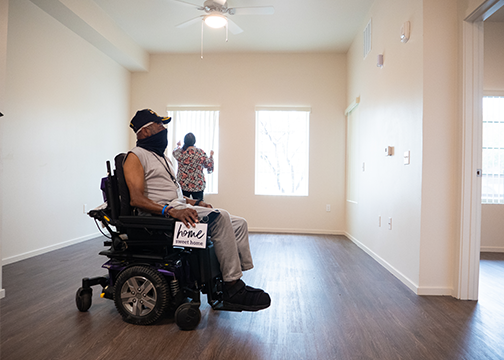 "We interviewed Mr. Collins," Esther said, "and wanted to get the history of what his needs are. How we can help him as a community. That's how we initially welcome people in. We meet with them, and from there on we made a commitment to one another to be a team and meet every week."
Being at Ozanam Manor was more than just a way for Darren to find stable housing. It gave him a sense of community, especially with the other veterans that lived there.
He could often be found sitting in the breakroom of his dorm even after mealtimes, chatting with his friends and fellow veterans. Darren made a point to say hi every time he saw them in the breakroom, elevator, or dorm room. Even if they didn't say hello back right away, people always came around, he said.
"I think God puts people in different places for a reason," he said. "I'm happy to be here. It's helped me immensely."
"I think God puts people in different places for a reason," he said. "I'm happy to be here. It's helped me immensely."
Being raised on the south side of Phoenix, it was important to Darren to stay in that community. Esther found a senior living community for him that perfectly fit his needs. As soon as it was built in June, he was able to move-in.
Move-in day itself was an unusually rainy June morning. Darren and Esther went to the complex as soon as it opened in the morning to sign paperwork and get his keys. Then it was off to the St. Vincent de Paul Last Chance Thrift Store to pick up his washer and dryer that had been in storage as well as a brand-new twin mattress for his new place.
Esther packed up the accessible van with a few boxes of Darren's belongings that he had had with him at Ozanam Manor.
As he rolled up to his door on the first floor of the brand-new apartment complex, he turned the key for the first time and entered his new apartment.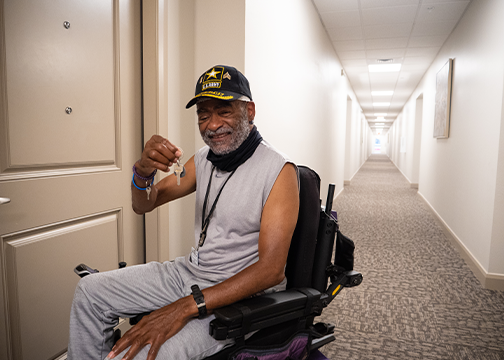 "I'm home," he said. "I'm glad to be home. Home means a lot, not only to me. I'm quite sure it means a lot to everybody that's out there like I was."
"I'm home," he said. "I'm glad to be home. Home means a lot, not only to me. I'm quite sure it means a lot to everybody that's out there like I was."
He went through the one-bedroom apartment marveling at the tall ceilings, huge bathroom, and laminate floors. Most of all, he was excited about how quiet, peaceful, and private the space was. He wasn't in the shelter anymore, living in a dorm space with 15 other people. This home was all his.
As Darren reflected on his journey to get to this place he started to tear up, overcome with emotion. He had made it through housing insecurity, losing his leg, accepting that he needed help and rebuilding his life at Ozanam Manor, to end up here in his own apartment.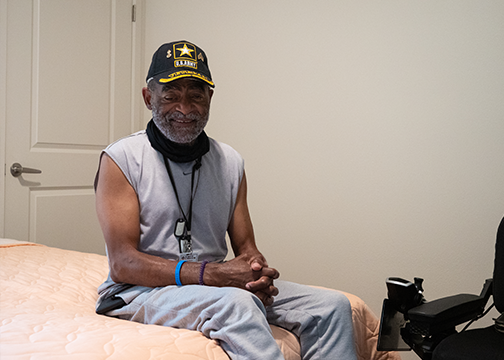 "At this age, now that I'm 62, I'm just trying to enjoy my life, spend time with my son now that he's here, and just kick it with my grandkids when they get here," he said. "Just live."
This article originally appeared in the winter 2021 issue of Vincentian Connection.