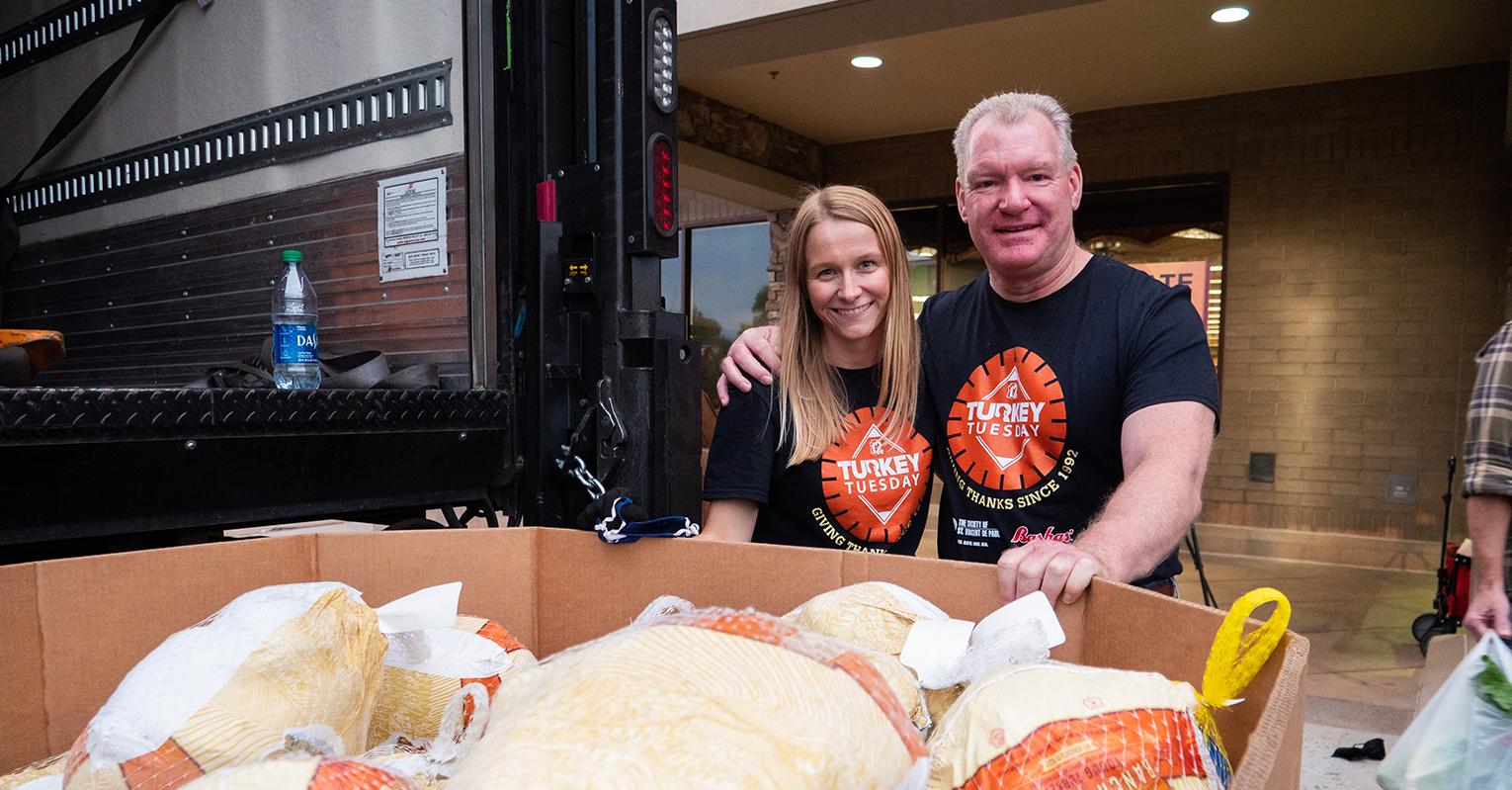 Join our Turkey Tuesday drive to get turkeys to families this Thanksgiving
Take part in the nation's largest single-day turkey drive with 12News, AJ's Fine Foods, Bashas' and Food City
Thanksgiving just wouldn't be the same without a turkey.
Unfortunately, with rising inflation and cost of living soaring in Arizona, many of our neighbors might not get the chance to feast on America's favorite fowl. In Arizona, there are more than 750,000 experiencing food insecurity, meaning they don't have access to enough food to meet their needs. And worse yet, more than 200,000 of them are children.
That's why 12News is partnering with AJ's Fine Foods, Bashas' and Food City for the annual Turkey Tuesday drive benefitting St. Vincent de Paul. Each of the partners believe there's nothing like giving a taste of the holidays to every family in the Valley – no matter what difficult circumstances they might be facing.

What better way to meet the increased need than with the largest one-day turkey drive in the nation! This year Turkey Tuesday is Nov. 21.
The best part is that the community gets to join in the effort all month long to help make a difference! Just $20 will provide a turkey for a local family in need, so help keep the turkey tradition alive for families who might otherwise go without!
How to donate this November:
Make a monetary donation at the register of your local AJ's, Bashas' and Food City all month long.
Give online any time at

stvincentdepaul.net/turkey-tuesday-campaign

On Turkey Tuesday, Nov. 21, visit your local Bashas' and Food City to donate a turkey. SVdP food pantry volunteers will be stationed at every store to take your donation back to the nearest SVdP pantry. Those turkeys will be packed straight into a food box and many of them will end up in family's home by the end of the night!

Donate to Turkey Tuesday
Just $20 helps SVdP put turkey on the table for an Arizonan in need!
Other ways to participate: