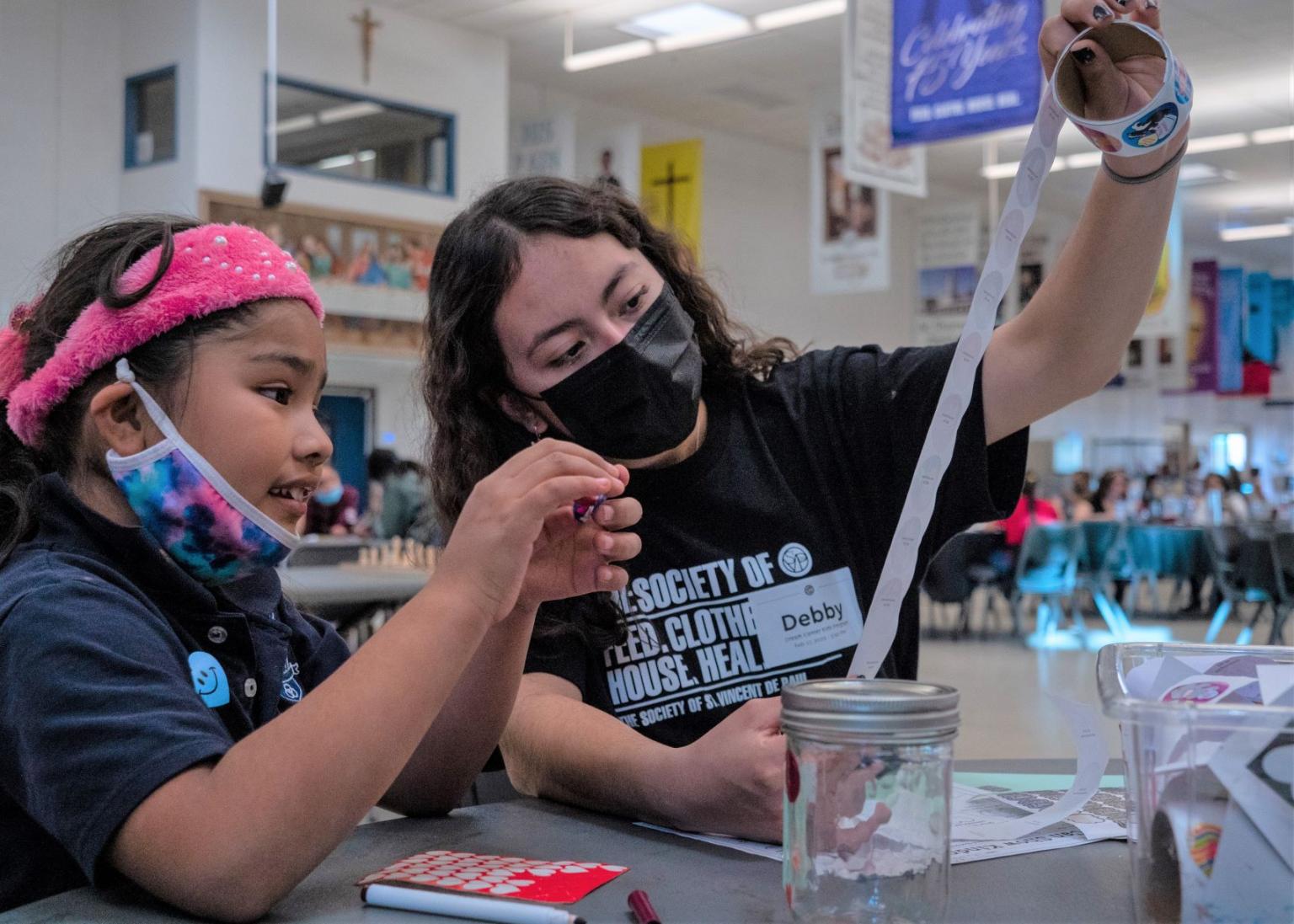 Renewing our servant heart
Be inspired by three stories of returning volunteers. Won't you join them?
For so many, the first part of St. Vincent de Paul's mission — to serve people in need — is easily observed. It's the second part that often escapes people — that the Society equally exists to provide the opportunity to serve. Therein lies the true magic of SVdP's culture. Feeding the souls of those serving is just as important as feeding the souls being served.
Yet during the pandemic, it's the second half of SVdP's mission that has taken a toll. SVdP saw about 15,000 volunteers come through its campuses every year prior to the pandemic. Today, the nonprofit is nowhere near that number. Yet service not only continues, it expands as the need has expanded in the community. As in-person volunteer opportunities return, SVdP hopes so too will its volunteers.
In the stories to follow, meet a few of the volunteers already back on-site.
MAUREEN and DENNIS GORDIA
Faith-filled couple, dedicated volunteers, there when the kitchen needs them most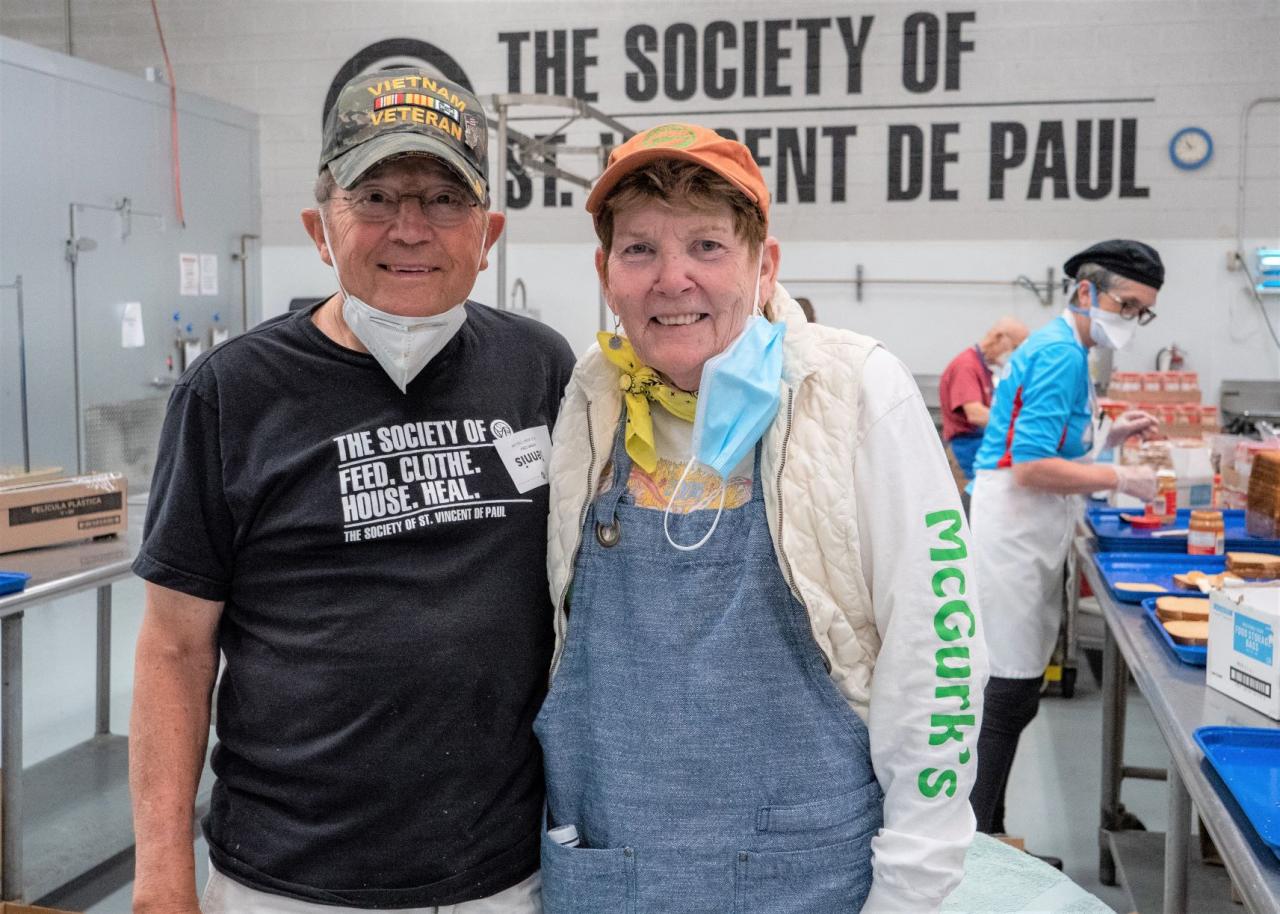 Early mornings in the St. Vincent de Paul central kitchen are filled with the smell of food cooking for the day, the sounds of laughter and music wafting through the air. There are many familiar faces of the regular volunteers that come to the kitchen to serve. Two of those volunteers are Maureen and Dennis Gordia.
"We do whatever we're told," Maureen jokes. "We do a lot of chopping. We open the cans. We've come in on Fridays and helped with Pizza Nights. And we pack a lot of lunches. We make a lot of peanut butter sandwiches, and a lot of deli sandwiches."
They've done almost every task in the kitchen Dennis adds, even bringing their own knives for chopping vegetables. Maureen and Dennis retired and relocated to Arizona in 2015. They were looking for a way to continue the service that Maureen especially had witnessed as a teenager in St. Louis, where her father started their local parish's SVdP chapter. They found a home as parish volunteers at St. Maria Goretti Catholic Church in Scottsdale and went out on bi-weekly home deliveries to families in need in their community but felt there was more they had to give.
"It didn't seem like enough," Maureen remarks. "That's when we read something about coming down here, and maybe working in the warehouse."
But when they arrived, they helped meet an urgent need in the kitchen.
That was in 2015, and the Gordias have served in the SVdP kitchen every week since. They've found a strong community — a family they say — in the staff and volunteers in the kitchen. The Gordias stopped coming briefly when the pandemic first struck but jumped at the opportunity to return in April 2021 as soon as they could, because they missed the kitchen staff and their fellow volunteers.
"We called them up, and said 'When can we come back?'" Dennis remembers. "We came back in April once we got our shots, and boy nobody was here, but we came back."
"We missed coming here," Maureen adds. "We missed doing everything."
"We missed coming here. We missed doing everything."
The two aren't afraid to step in and help wherever they may be needed, especially on the days when they know volunteers are needed the most.
"We come down for the holidays," Maureen says. "We don't come for the holiday itself, because they have a lot of volunteers, but we'll come the day before or the day after. The day after they don't have many volunteers, so we jump in on days like that."
For the Gordias, serving as regular kitchen volunteers for the past seven years has been a way to share and live out their faith. They serve, Maureen adds, with open and caring hearts for their neighbors.
DEBBY SUÁREZ
High school teen, future educator, inspired to teach through service in the Dream Center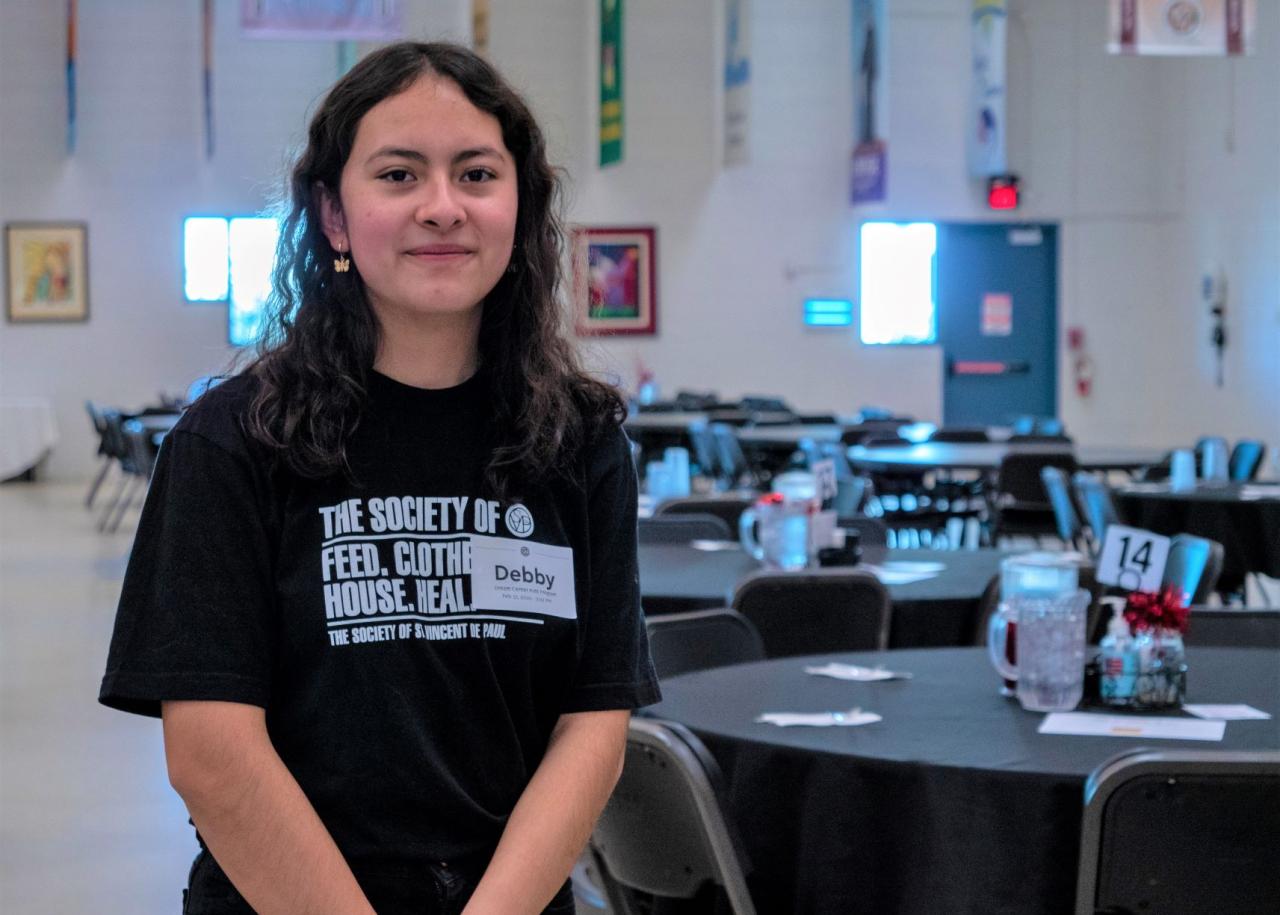 For Debby Suárez, 16, volunteering in St. Vincent de Paul's Dream Center is about more than just giving back to her community. It is an opportunity for her to grow the skills she will need in a future career as a teacher.
"I'm in an early childhood [education] program at my high school," Debby says. "I definitely want to pursue that as a career and as a job. I love working with toddlers and infants but teaching in general is kind of a passion of mine. And that's why I love coming here."
The junior from Metrotech High School in Phoenix first started volunteering three times a week with SVdP in 2018 after her older brother came to volunteer. She started working in the Dream Center, which provides educational enrichment alongside the Family Dining Room's weeknight meals, and immediately she fell in love with the work.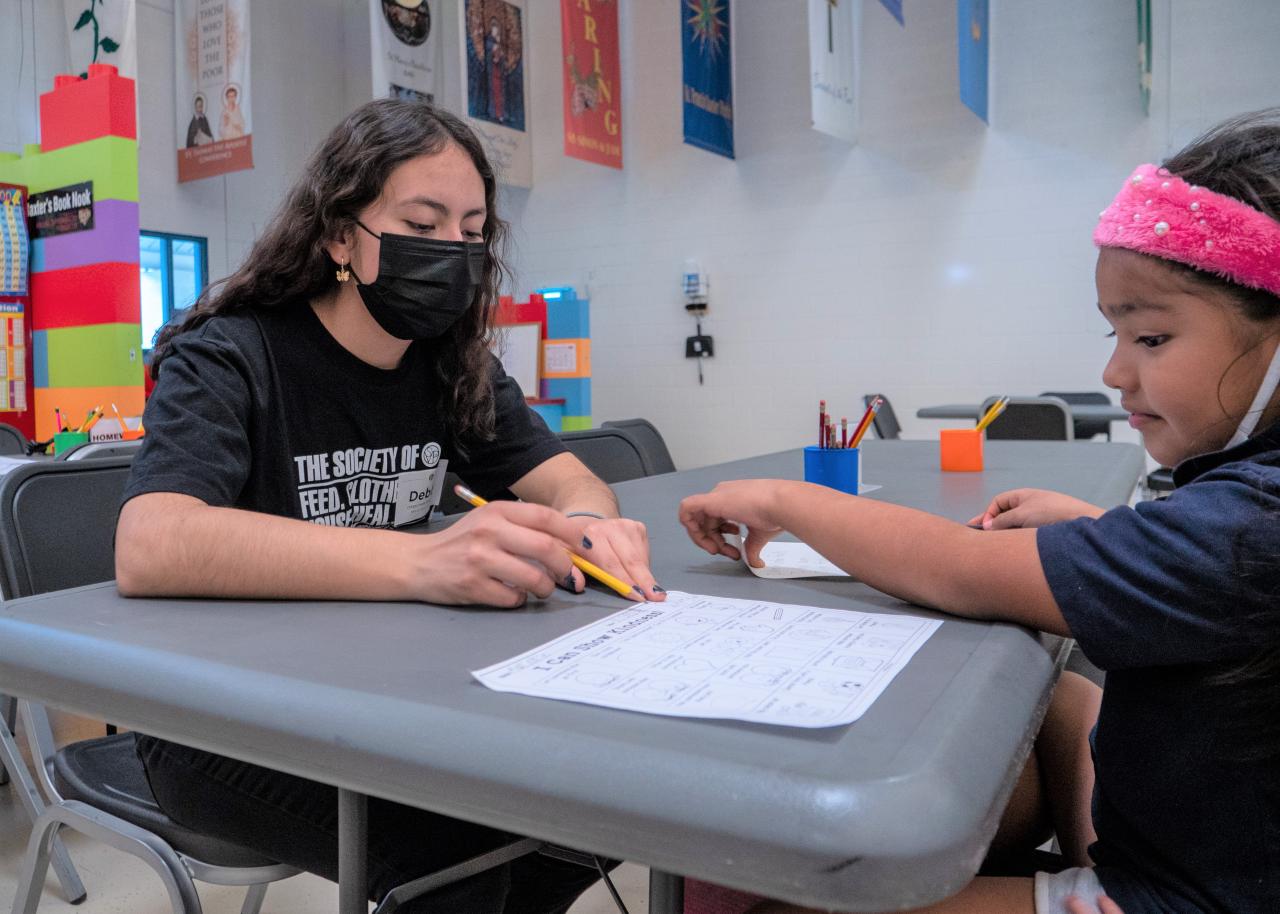 Debby enjoys working through homework assignments with older students but is really drawn to help the younger kids. Oftentimes, she can be found teaching counting or reading to kids in the Dream Center library. Even after March 2020, when the dining room and center transitioned to SVdP's drive-thru, Debby continued coming to volunteer.
"I got to know the families more, one-on-one, rather than just the kids," Debby says. "So, I got to meet the families and talk to them and just listen to them."
There were times, Debby recalls, when she would be the only volunteer working the drive-thru with SVdP staff members. It was an experience that helped her grow and feel comfortable taking on more responsibilities even as a teenager.
"I remember clocking in for eight hours sometimes in the summer," Debby says, "because I wasn't old enough to get a job, but I loved coming here."
"I remember clocking in for eight hours sometimes in the summer, because I wasn't old enough to get a job, but I loved coming here."
When the Family Dining Room reopened for in-person service in October 2021, Debby returned to a familiar role assisting in the Dream Center, now with the added responsibilities of helping teach other volunteers – both younger and older – how the Family Dining Room operates.
"The connections I've made here have lasted through the pandemic," Debby says about why she loves volunteering at SVdP, "so just emotional attachment to this place. I've grown up here. I've learned a lot of things here."
ROB MARUSTER
Retired executive, servant leaders unafraid to dig in the farm or serve dinner at families' tables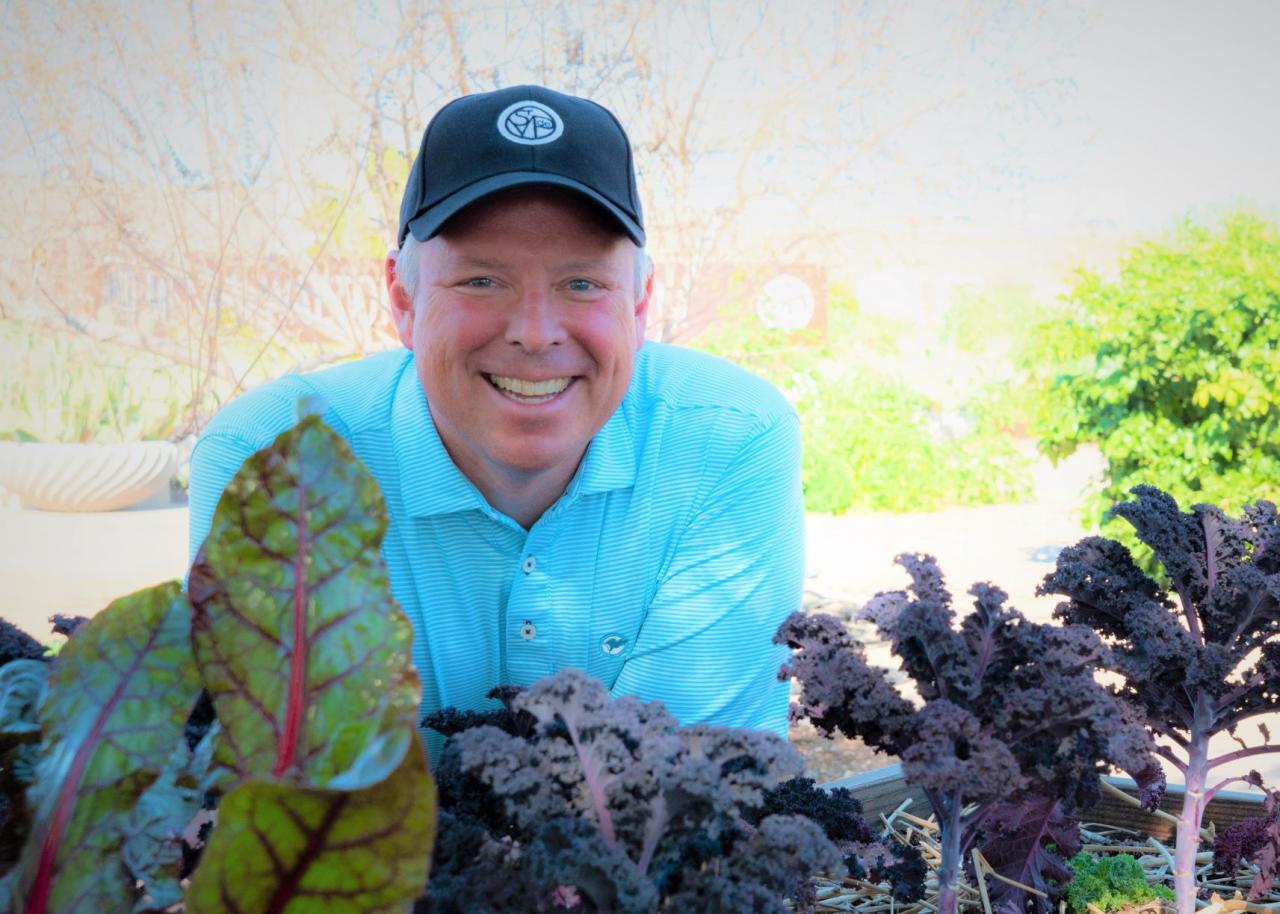 Rob Maruster, 50, knows what it means to be the man at the center. After completing his undergraduate degree at Auburn University and earning his MBA at Emory University in Atlanta, he started working for Delta Airlines.
"I went all the way from a part-time agent to the world's biggest airport," says Rob, who spent 12 years with the airline and climbed the ladder to eventually run the Atlanta hub. "It was awesome. I had 6,000 people working for me, 725 mainline flights and 350 commuter flights every day."
He took that experience to JetBlue for 13 years, eight of which he served as chief operations officer until Republic Services in Phoenix tapped him for the same position. After recovering from a hemorrhagic stroke, Rob found himself lucky to be alive, but re-evaluating being in the workforce.
Now he's the man quietly behind the scenes volunteering to help St. Vincent de Paul bring services to the community.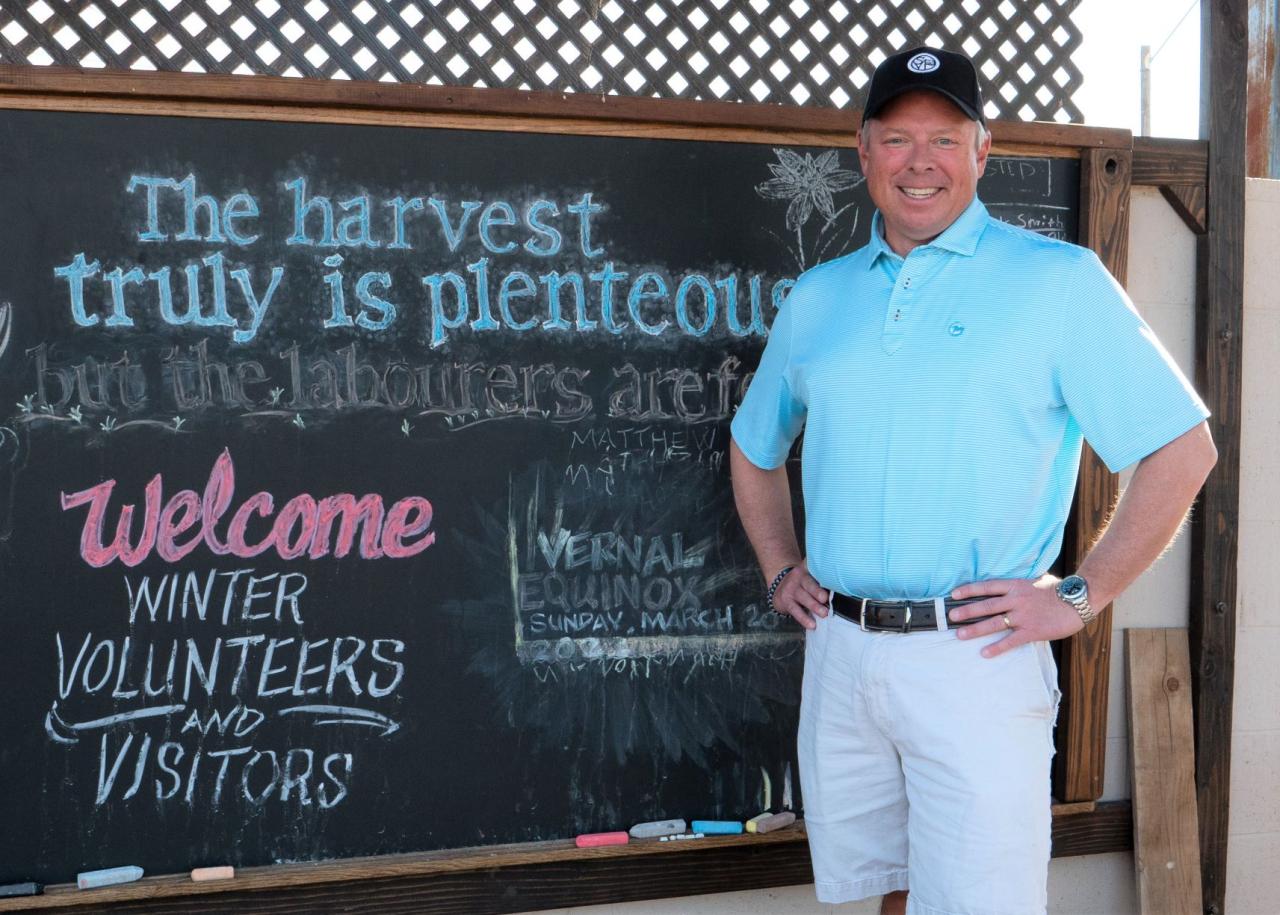 "If I can't go back, then I can do things like this,'" he says. "I'm a huge glass-half-full guy, and I still have my energy. I just had to redirect it a bit."
Rob started his SVdP volunteer career in the early days of the Rob & Melani Walton Urban Farm, where he was one of the first to serve. He remembers weed whacking and learning the soil.
"The five years I've been here, it's been tremendous progress. We really got the farm producing now," he says. "When you start thinking that 15-17 percent of all the food that comes to the kitchen came from the farm, that's really impressive."
That satisfaction from helping drove Rob to try his hand volunteering in other areas of the SVdP mission as well. As a self-proclaimed "culture guy," Rob particularly appreciates the Family Dining Room's restaurant-style service and taking orders at each family's table.
"I like it because you actually see the people that you're helping to feed. I never want to forget what that feels like every time I come in here."
"I've always wanted to be in that category of the 15 percent of executives who do things for other people, especially people in need," he says. "I don't think there's anything more important than feeding, clothing, healing and giving hope to the less fortunate. There's no more direct method that I can give other than my time and treasure."
On his list next is to serve in SVdP's transitional housing at Ozanam Manor. But for now, he takes time each week to devote some love and energy to serving families out of the kitchen and in the dining room.
"I like it because you actually see the people that you're helping to feed," he says. "I never want to forget what that feels like every time I come in here."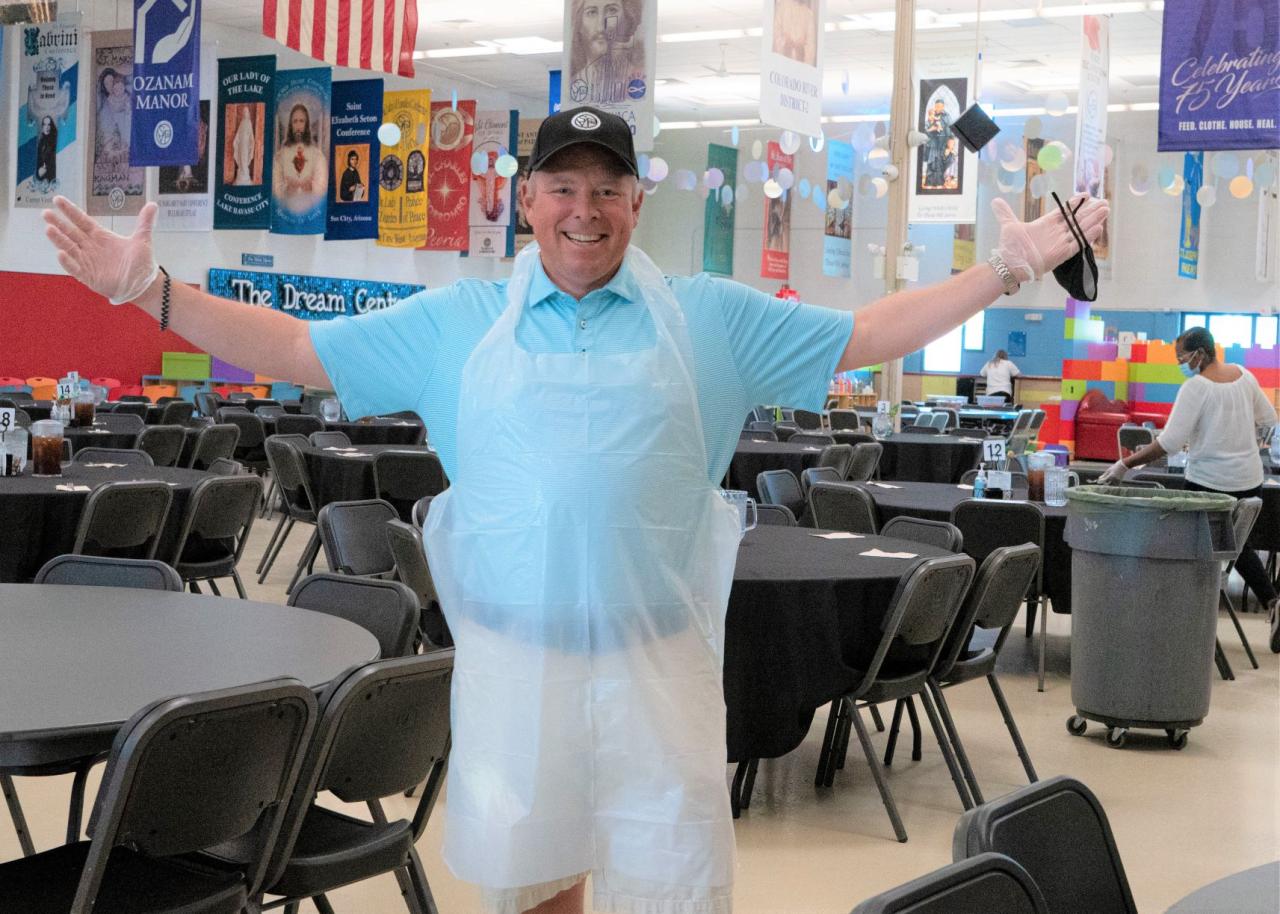 This article was originally published in the spring 2022 issue of Vincentian Connection.