Remote video URL
One morning, a series of hope
Renewing Hope gathers SVdP family virtually to celebrate community
While our Renewing Hope event was not a fundraiser, we are humbled and grateful to the Pitre Family Foundation and the Rob and Melani Walton Foundation for making a $750,000 matching gift possible. Give today to have your gift doubled.
On the morning of Nov. 19 members of the St. Vincent de paul family from around the world joined our virtual celebration of hope – specifically Renewing Hope, the virtual community gathering held in lieu of the traditional Restoring Hope breakfast.
This event – held virtually once again this year – continued SVdP's longstanding tradition of gathering its community the Friday before Thanksgiving.
Hosted by 12News Anchor Mark Curtis, the program highlighted how SVdP brings people together for shared moments of hope and healing regardless of their individual vantage point.
Viewers also received a special gift this year – Hope Notes. Inspired by the encouraging notes volunteers made for guests of the Overnight Heat Relief Shelter, these Hope Notes gave event participants the opportunity to write a note of encouragement for another member of the SVdP family.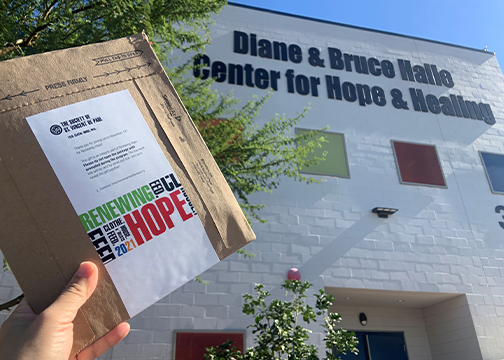 "One of the most powerful aspects of our St. Vincent de Paul mission is our ability to harness the strength of love, compassion, and care," Shannon Clancy, SVdP associate CEO, said. "To renew hope in our world. Each of us has the power every day to renew hope and change lives for those in our own circle and in the larger community."
The spreading of hope continued beyond the 30-minute virtual event as Hope Notes were exchanged throughout the SVdP family.