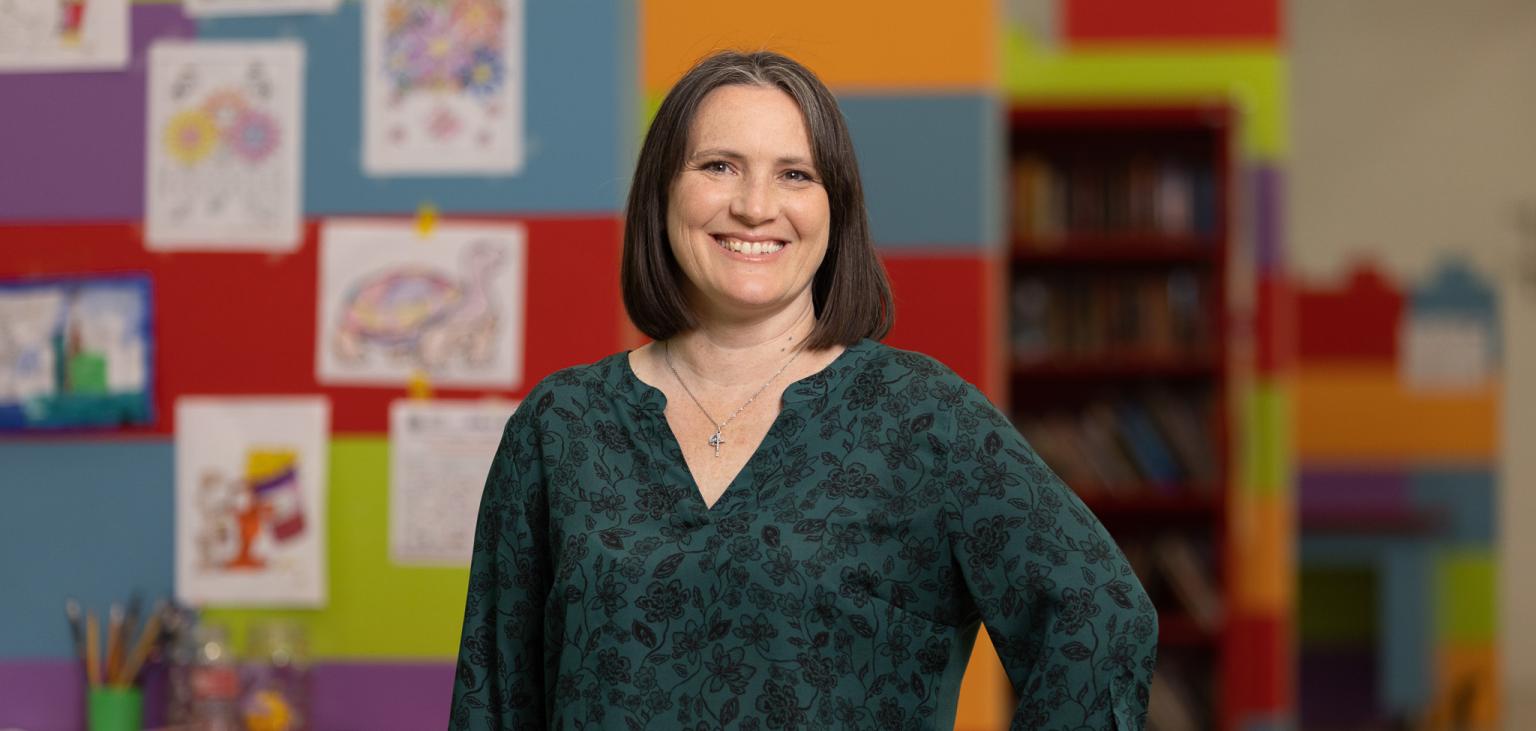 Halfway to Housing 2025 goal! Hear from its leader.
SVdP's new Associate Chief Program Officer Julia Matthies talks goal progress and shares insights from her new role
St. Vincent de Paul is already halfway to meeting its Housing 2025 goal to permanently rehouse 2,025 people experiencing homelessness by the year 2025. Leading the initiative is Julia Matthies. Her recent promotion to SVdP's associate chief program officer has her overseeing the progress of Housing 2025 and all the departments and teams who work on rehousing at SVdP.
Before her new role, Julia was the director of Ozanam Manor, SVdP's transitional shelter for 50+, veterans and people with disabilities. The Ozanam Manor model thrived under her leadership the last six years. Now, her new role sees her applying that same passion, dedication and smarts across the organization, expanding her talents to oversee all of SVdP's interim housing communities, including SVdP's Washington Street shelter and City Center shelter.
SVdP caught up with the new associate chief program officer to get an update on Housing 2025's progress and hear more about her leadership and vision as the team looks ahead to achieving its goal.
How is Housing 2025 going?
It's going beyond what I thought it could be. It's going really, really well in a few different ways. We are a lot more successful than any of us thought we were going to be. At one point, when we started it, we wondered, "Do you think we could do 500?" And then we decided to stretch it to 2,025. And we were like, "Well, even if we never get there, it's a great goal." And now we find that we're actually halfway there and much faster than we thought we were going to be. So it's going really well as far as outcomes. But it's also just going really well in the way that it's brought all of our teams together. I see a lot more communication between the different departments that are working on housing goals for our guests. And so I think it's making our organization stronger.
How does it feel to be halfway to the goal?
It feels great. I remember in June we were really excited because we had just met our fiscal 2023 goal. That was a big deal. Then just the next month we realized we were halfway to our total goal and it just kind of snuck up on me. So it's kind of a big deal. We didn't think we would be at the halfway point until closer to November or December. It really gives me this feeling of, "We can definitely do this, and we're just going to keep going beyond the 2,025."
What does Housing 2025 work look like on the ground?
Before Housing 2025, most of our departments didn't need to communicate as often with one another. The biggest thing that we're doing for Housing 2025 is a bi-weekly case conferencing meeting with the all of the housing programs, the shelters and transitional housing, the Social Work Services team, the Resource Center, and our dining rooms. The meeting provides a time and place for all of us to come together and offer each other resources and share ideas about how to work through barriers for people we are trying to rehouse. It also helps us refer between SVdP programs. That's really the biggest change — now we have a forum for everyone to get together and work together in that way.
Other than that, it's people doing the work that they have done every day for years and years and years. In the housing programs, it's working with our residents to meet their needs. In Social Work Services, it's working with those guests to get into housing as quickly as possible. I think what is different is that there are emails going back and forth between the departments to help each other out. There are more resources, because we've been able to highlight this work, and so we have some more financial resources to help with moving costs for people. On a day-to-day level, it's meeting the needs of our clients with more cooperation and problem-solving.
The last piece is that we have obtained some specific funding for move-in assistance for the guests and residents we are working with. That allows us to move more quickly to get people into available apartments through some short-term financial assistance for deposits and first month's rent, for example.
What are some of the obstacles you and your team face?
People are going to be tired of hearing this, but we're really tired of living through this: There isn't enough housing out there that is attainable for people on the lower end of the income spectrum. So it's just harder to get people into housing when there isn't enough housing out there. The other side of that is that even though we are doing more and even though we're doing a fantastic job of getting more people housed, it's a bit disheartening to know that for every person we get into housing, two people become homeless. That's a statistic I've heard in a couple of different places recently. There is a real need for homeless prevention, in addition to homelessness response
Why are you personally invested in Housing 2025?
About a year and a half ago, after the eviction moratorium was lifted, homelessness in the city started to grow, and it became a lot more visible. I saw so many people unsheltered outside and knowing that I was leading Ozanam Manor… we could only do so much. And I went through this period where I was feeling helpless and hopeless about the scale of the problem. So when the Housing 2025 idea came up, it was exciting for me to think about —there's at least something we can do as an agency to try to do more. Maybe there are ways for us to work together and make more of an impact.
What does the future look like once SVdP has accomplished its goal?
We're going to keep rehousing people, of course! I think we're also going to be working on becoming more sophisticated and efficient in our homeless services. We have a lot of ideas that we've been starting to implement, such as a database that we'll all be able to use to help us communicate better between departments. We have trainings that we are planning to help our case managers and navigators get the skills they need to do a great job. The collaboration that we've had between departments has been really positive for all of our programs, and there's a desire to do more together. I think that's what will continue, no matter what the specific goals are that we are pursuing.
What gives you hope?
What gives me hope really, honestly, is when I see a new affordable housing complex open up, and when I see the system working, when I see groups or other partners coming together to share resources, share knowledge, work together on the goal. Those are the things that give me hope. We know that what we do can and does work. We know that we have some of the answers right here at SVdP. It's just getting the community together to work together on that goal. That's what's going to really end homelessness in our community.

Help SVdP get people housed
When you support our Housing 2025 goal, you help people move into permanent housing.