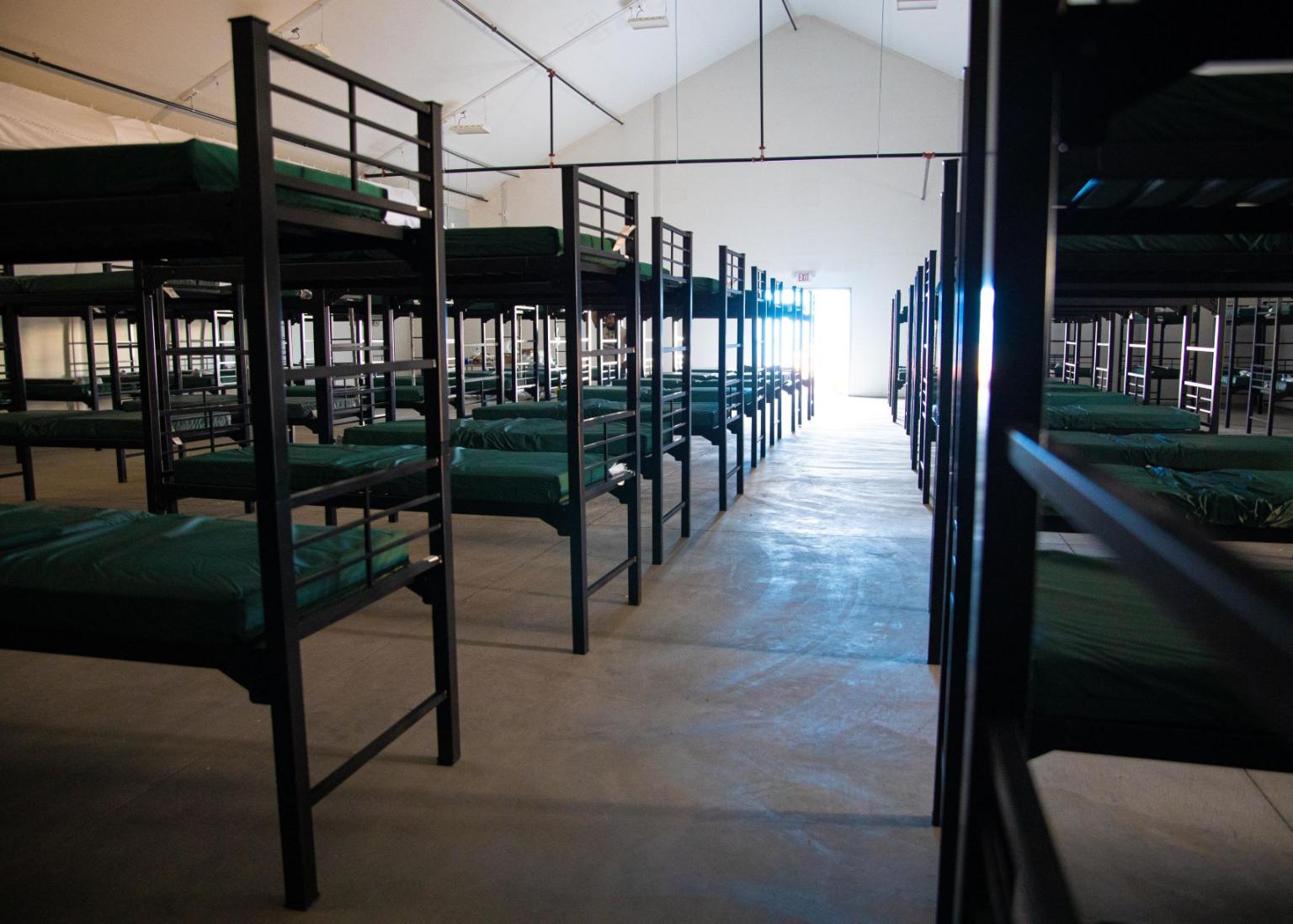 Human Services Campus opens 100-bed Respiro shelter north of SVdP Urban Farm
Just north of the tall sunflowers and springtime vegetables growing on St. Vincent de Paul's Urban Farm at the Human Services Campus (HSC) now stands Respiro, a 100-bed overnight shelter for individuals experiencing homelessness around the campus. The name comes from the Spanish word for "respite."
SVdP lent the northern-most part of its farmland to provide the space for HSC's 6,300-square-foot pre-fabricated building in a community effort to help provide additional shelter to those in the area. In return, the farm will expand onto HSC land to the east.
The area surrounding HSC has seen a drastic rise in homelessness since the pandemic growing from 500 people living in tents on the streets surrounding the campus in January 2021 to more than 1,000 people today.
Respiro officially opened March 25 for overnight shelter. Daytime operations will follow as staffing needs are completed. HSC provides program staff and security at the $1.6 million structure funded by the City of Phoenix.
Prior to opening, HSC outreach teams pre-screened clients to be offered overnight shelter in the structure that also includes a shower and restrooms. Respiro focuses its services on two main groups of people:
• Individuals camped on the streets surrounding the Campus who are close to being housed and have a housing voucher but are unable to find housing due to market conditions, and those already accessing services but are unable to find shelter, and
• Highly vulnerable individuals experiencing significant barriers to housing. This population includes individuals of advanced age and young adults, medically vulnerable, domestic violence survivors, veterans and individuals discharged from hospitals overnight.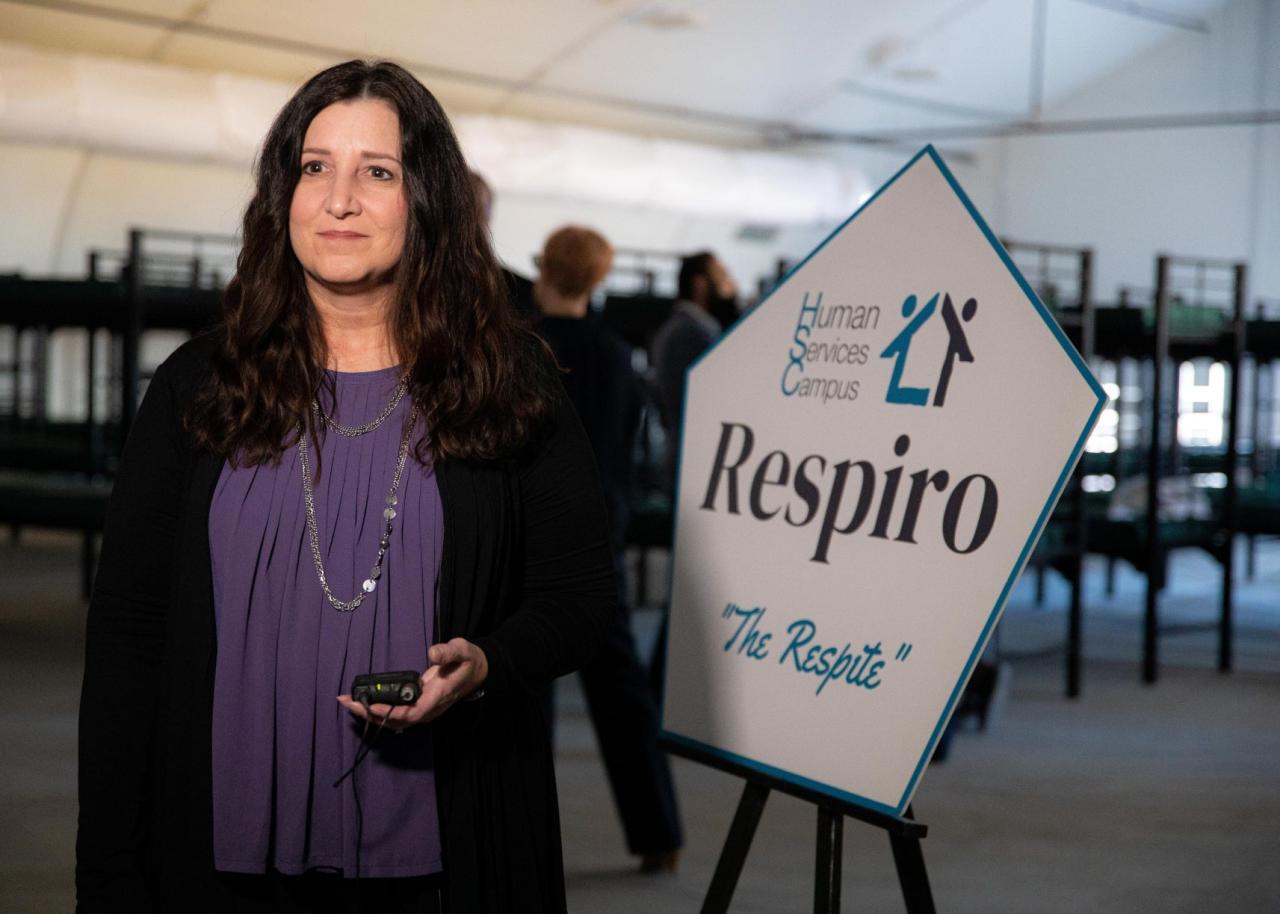 "As the name indicates, Respiro will provide critically important respite for 100 people experiencing homelessness now living on the streets outside the Human Services Campus, a number that has increased significantly since the onset of the pandemic," HSC Executive Director Amy Schwabenlender said at the opening ceremony. "This much-anticipated resource will, at least in part, address the desperate need for shelter space in the Valley. We are extremely grateful for the support of the City of Phoenix in making this happen."
Also in attendance was Phoenix City Councilmember Yassamin Ansari, who spoke at the opening.
"This structure is only step one in a series of efforts our city is launching to address increasing homelessness in our city," Councilmember Ansari said. "As we enter another grueling summer, I'm focused on ensuring that every resident has access to temporary shelter and cooling that saves lives. While we work on long-term solutions, we must meet the need of right now. This structure will serve as a low-barrier option to many around the HSC campus who are living in tents and need a stepping stone for more services."
The Respiro pre-fab engineered building is built with Polyurethane opaque membrane panels placed under high-tension within a non-corroding aluminum substructure. All membranes are water and mildew resistant, insect proof and flame retardant and are able to withstand extreme climate variations. The structure is 60-feet wide, 105-feet long and 26-feet high.
Each restroom facility includes toilets and stalls compliant with the Americans with Disability Act (ADA). The structure was erected by Woodard Construction.
For more information visit www.hsc-az.org.