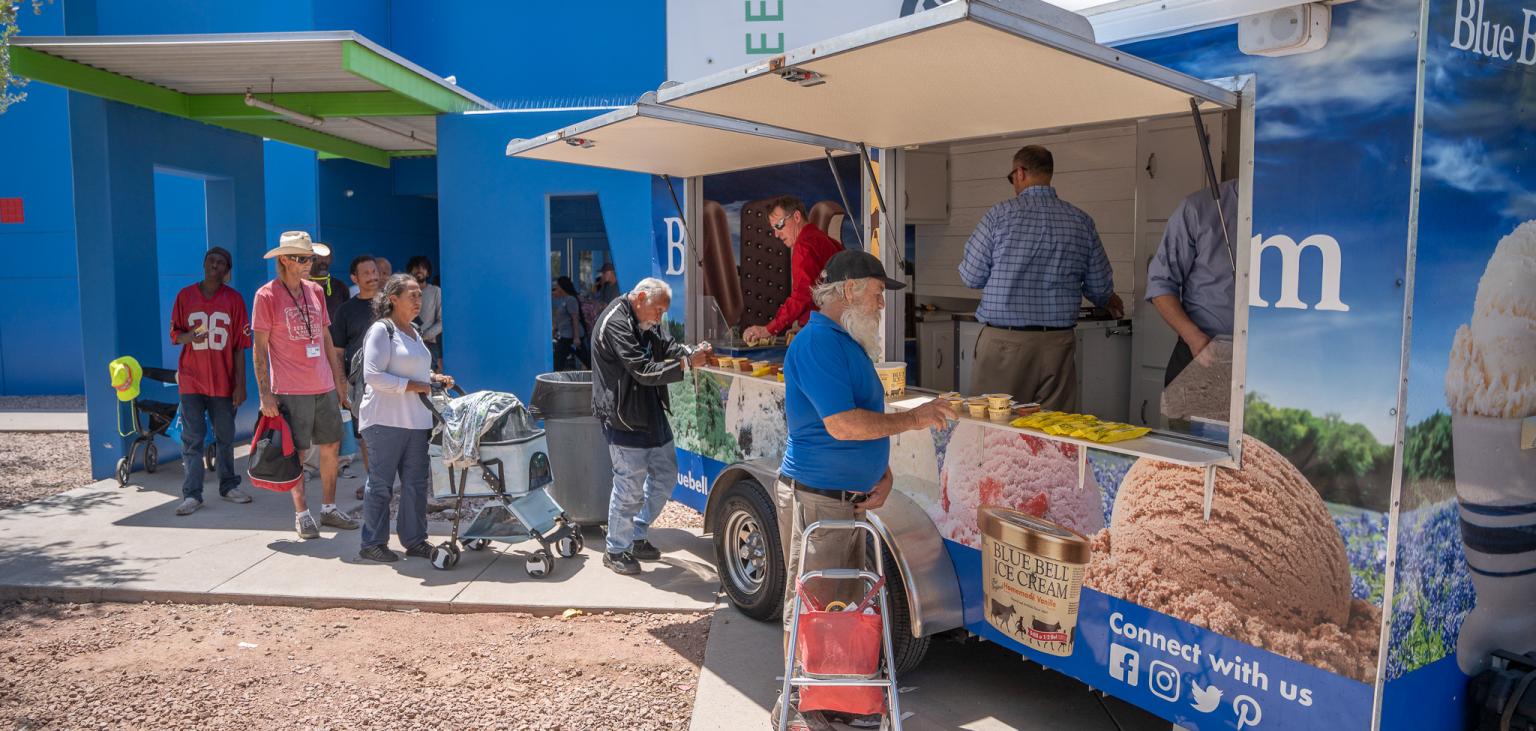 A gift of ice cream brings relief to PDR
During record-breaking heat, Blue Bell brings 2,000 servings of ice cream to cool dining room guests
Ice cream for someone on the street is more than just a treat — it's closer to a delicacy. Many of our guests haven't had ice cream in a very long time. Anywhere from months to years. So when they get the chance, they savor it.
"It's not every day our guests get something special like ice cream," said Tony Alvarado, the Dining Room Manager at our Phoenix Dining Room on the Human Services Campus. "It meant the whole world [to them]."
That's why last Tuesday, July 18, was a very special day for the guests of the downtown dining room. Blue Bell Ice Cream visited in its special refrigerated trailer filled to the brim with 2,000 servings of chocolate and vanilla ice cream and banana popsicles.
There were towers of ice cream cups at some tables. Many guests dove into the treat before their lunch and before it melted. Eyes lit up. Trickles of cream, both vanilla and chocolate, streamed down the lips and chins of men and women alike.
Phoenix is experiencing one of the hottest summers ever seen by Valley residents, with high temperatures over 110 degrees every day for more than three weeks — a record not broken since the 1970s. With things so scorching hot, imagine how much more intense the heat must be for neighbors living on the street?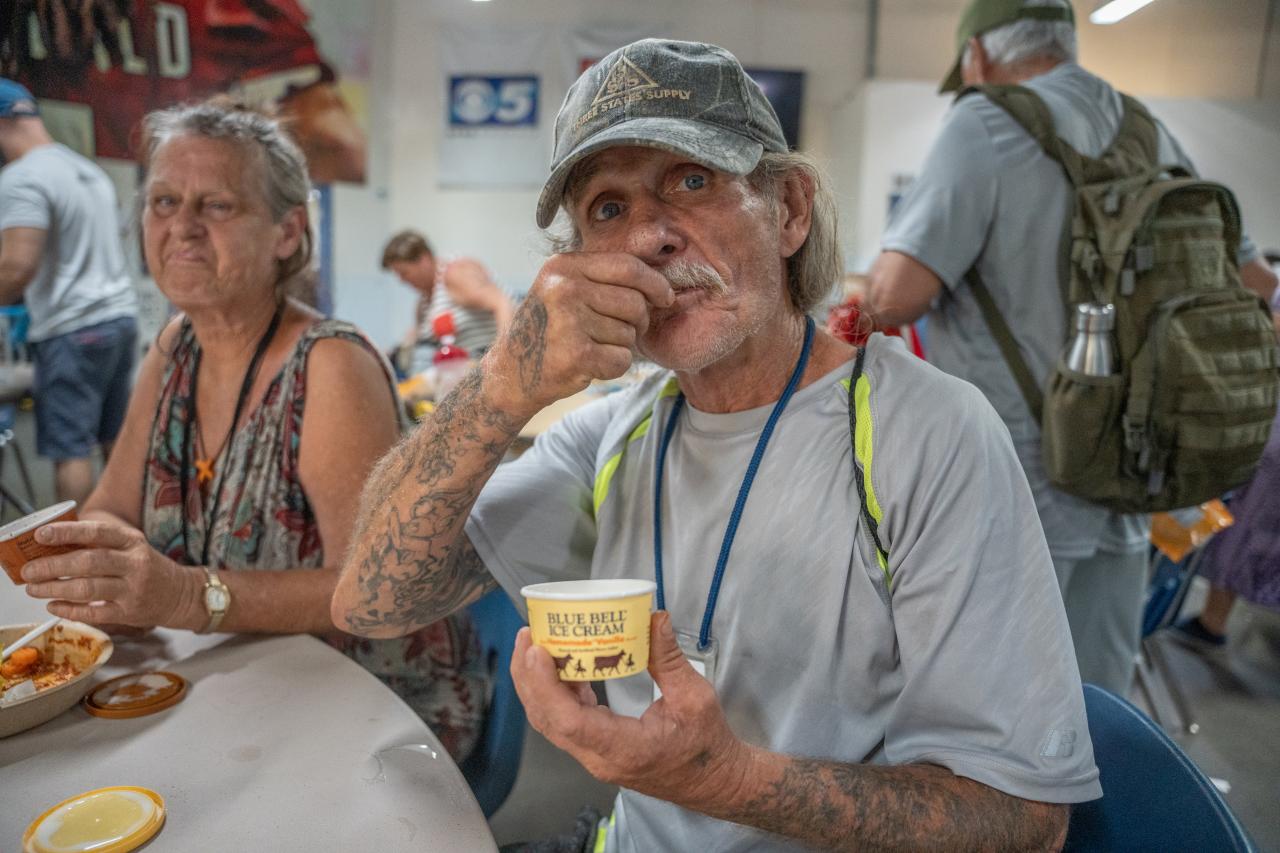 "St. Vincent de Paul does important and impactful work in the Phoenix community, and what better way to celebrate that work than with ice cream!" said Grant Lasiter, the Phoenix Branch Manager at Blue Bell Creameries. "Our employees and their families live and play here, so it is important to give back to the communities who care for them every day as well. Ice cream is a treat that people get to share with friends and family."
The excitement in the air at the dining room was palpable. Even more guests lined up than normal just at the sight of the refrigerated trailer parked by the dining room's basketball court. Everyone couldn't wait to get their hands on some of that creamy goodness.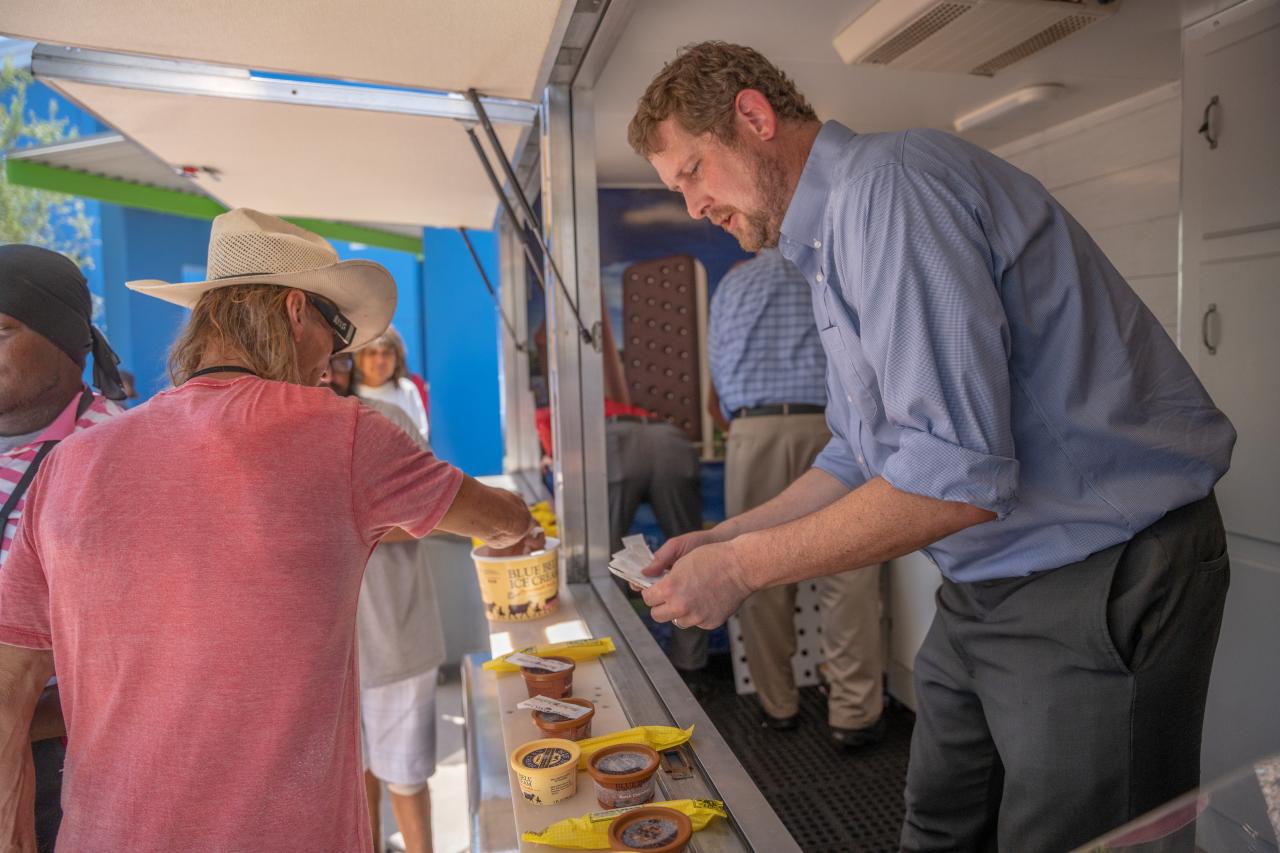 As soon as the lunch opened up, dozens of guests beelined for the trailer and lined up for a cup of ice cream. Many guests grabbed as many of the servings as they were allowed, and thanks to Blue Bell's generosity, there was plenty to go around! It was a day not soon to be forgotten.

Help relieve the heat
Give now to support SVdP cooling centers during 100 Days of Summer and offer relief with water, A/C, shelter and more.