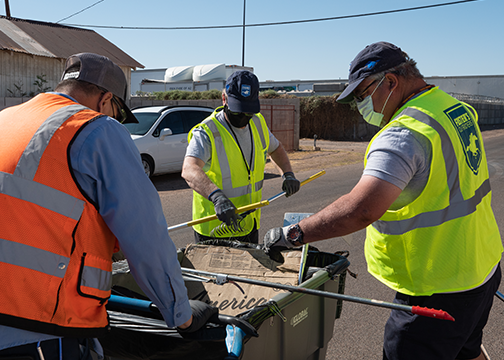 Foster's Outriders Litter Brigade offers employment opportunity for shelter residents
Learn more about the SVdP program that's beautifying the neighborhood while bolstering resumes
It's a bright, sunny morning in the Valley. As many people are just sitting down for their morning coffee, the members of Foster's Outriders Litter Brigade are donning their yellow vests to head out to work picking up litter around St. Vincent de Paul's Watkins Campus.
These SVdP temporary employees are all also current residents at Ozanam Manor – SVdP's transitional shelter for veterans, seniors, and adults with disabilities. And this Litter Brigade program gives them the opportunity to not only build their job skills, but also to earn a modest income as well.
"Initially, I signed up for it because you're going to get paid," Bob Marshall, a resident at Ozanam Manor, said. "I don't have any income. I don't have any way to buy a soda or whatever because I make zero money until my disability comes in. So being part of [the Litter Brigade] gives me a little bit of a paycheck I can actually use to buy things."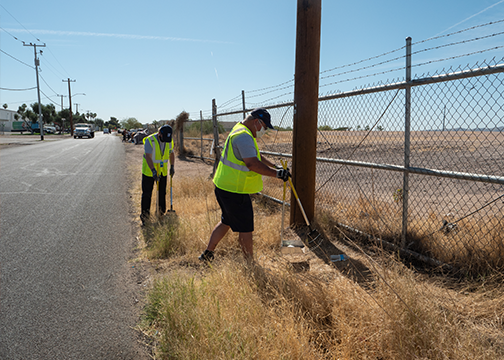 According to Ozanam Manor Director Julia Matthies, the program allows staff to work with residents on relevant job skills like getting to work on time, communicating with supervisors and building social skills — skills they can use to find and keep a job as they build stability and transition to housing after Ozanam Manor.
Eight residents have participated since the program started in February, with up to six active participants at any one time.
"They come down and they let us know they're interested [in joining the program]," Julia said.
If they're in good standing with Ozanam Manor, they go through the full hiring process, become temporary employees of SVdP, and get a paycheck every two weeks. Residents earn $15 an hour being a part of Foster's Outriders Litter Brigade.
The idea to start this program came from an SVdP donor, Foster Friess.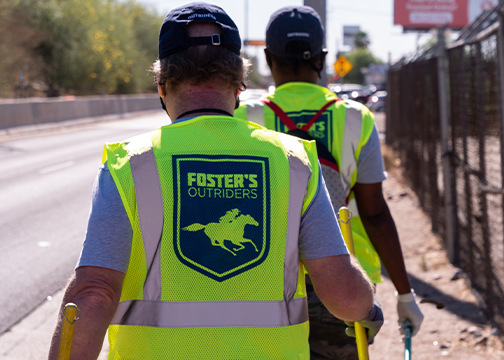 "He had this vision of a program that would employ people who are homeless to go out across the city and really beautify neighborhoods, pick up litter," Julia said. "Really give them a meaningful, dignified work experience."
His donation helps fund the temporary employee positions for the residents along with the equipment — like yellow vests and trash pickers — the tools of our trade Bob jokes.
"The first time we went out we did so much," Bob said. "[We collected] 15 bags of trash just around the neighborhood."
It's not just about residents gaining valuable work and social skills, though. Being part of Foster's Outriders Litter Brigade is a way for residents to feel like they're a part of the neighborhood, and like they're doing something good for the neighborhood, Julia said.
I don't do it because I get a paycheck anymore," Bob remarked. "I do it now because it's the best way I can say thank you.
The program members go out with interim program supervisor Albert Romero twice a week covering the area around the SVdP campus and occasionally going across I-17 to clean up that area as well.
Albert supervises the effort, but lets the residents take ownership of their work.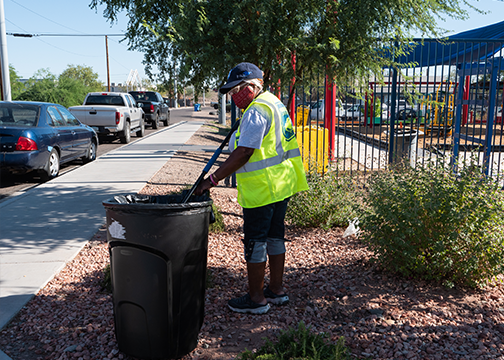 In the last few months, the residents have collected nearly 400 bags of trash and logged over 140 hours of service. "We average about six to seven bags of trash every time we go out," Albert added.
"What I've seen is it gives them a reason to get up in the morning," Julia said about the benefits of the program. "To get out and do something productive. They're not sleeping in because they have nothing to do. They're out and doing something good for the world."
In the future SVdP plans on hiring a full-time supervisor, and once that happens the Litter Brigade program will expand to the Sunnyslope and Mesa dining rooms. Guests at both of those dining rooms will have the opportunity to participate helping clean the areas around the dining rooms and build their skills for future stable employment.