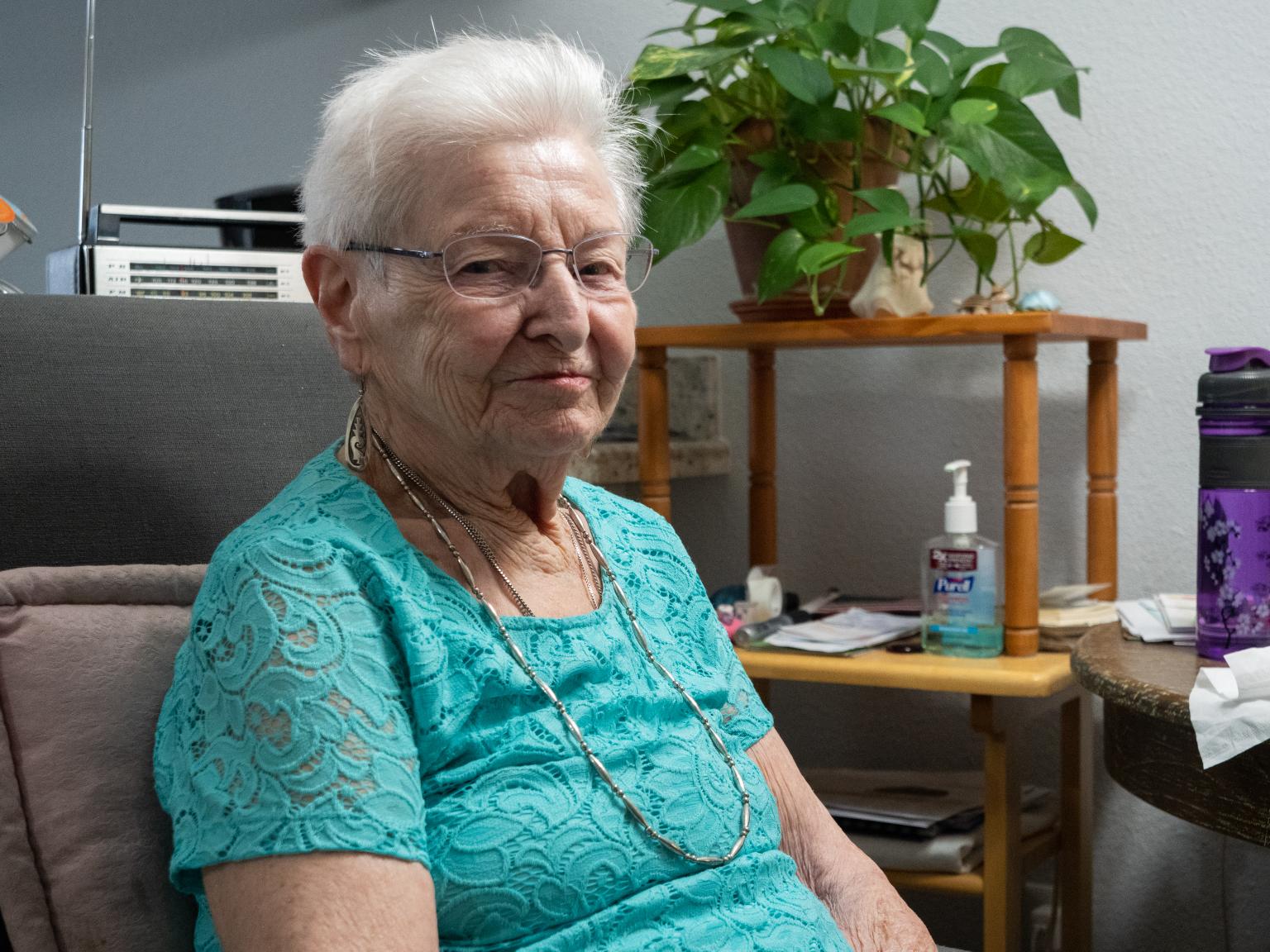 Finding a family in faithful service
Mary Hunkeler not only found her Vincentian calling, but a reason to give back to her SVdP family
There's one word that comes to Mary Hunkeler's mind straight away when you ask her about what St. Vincent de Paul means to her, and that's family.
When she and her husband moved to Carefree from Rochester, New York, to retire 25 years ago, they didn't have any family in Arizona. But they had a strong foundation in their Catholic faith and soon found another family of sorts at Our Lady of Joy in Carefree.
"I spent a year getting the house ready [after the move]," she said, "and then I looked for something to do because I was used to being busy. And that was when I met Our Lady of Joy and got involved with St. Vincent de Paul."
Mary became a Vincentian in the recently formed Conference, a group of parish-based SVdP volunteers serving the surrounding neighborhood, and help every leadership role available — from secretary to treasurer and even a brief stint as Conference president.
"I jumped in with both feet, and I've been with them ever since," Mary remarked. "So this is my family."
She lived the mission of SVdP and enjoyed serving the community. The one aspect of service that meant the most to her was going on home visits.
"When I was working, this is what I was doing as a public health nurse," she said. "I was involved in helping people, and I'm still helping people in a different way."
In the early years, the Conference covered a large swath of territory from Carefree to New River, and much of it was undeveloped. Mary remembers trips out into the desert — to families living on horse ranches — bringing food, clothing, and financial aid with her fellow Vincentians. The families usually just needed a little bit of support to get them through the month, she said.
Now, Mary can no longer continue her work with the Vincentians, but the ninety-eight-year-old remains deeply involved with and connected to the Vincentian community. She checks in on meeting updates and talks with Conference members about what's going on. But even beyond that, the Vincentians at Our Lady of Joy are her family, her support system.
"The latter part of my life, that was all St. Vincent de Paul," she reminisced. "That was my love. My life. My family. My kids that I didn't have."
"The latter part of my life, that was all St. Vincent de Paul," she reminisced. "That was my love. My life. My family. My kids that I didn't have."
Her friend, and fellow Vincentian Pat, calls her every night to chat and stocks her up with supplies from Costco whenever Mary needs it. During the COVID-19 pandemic, Vincentians were often helping her with grocery runs as well.
Even now, Mary is still deeply committed to carrying out the mission of SVdP. In her Scottsdale retirement community, she collects clothes and other items that can be donated to the nearby Scottsdale Hope Chest thrift store.
"Whenever I have anything, my friends [in the community] know I take stuff to help the needy," she said. "That's how I serve now."
In recent years, being a donor has become an important part of supporting the mission for Mary as well. She gives what she can to different areas of SVdP to help those in need. SVdP continues the hard work of reaching struggling families and individuals. Work that means so much to her.
"As a donor, the place where I'm giving [money] is doing the same thing that I was doing when I was able to be active physically," she said. "They're still helping those who need it. And they're finding new ways to help people who need it."
No matter how she serves, SVdP has been and always will be family for Mary.
Get your Tax Credit today
Donate and get up to $841 back in Arizona State Tax Credit.