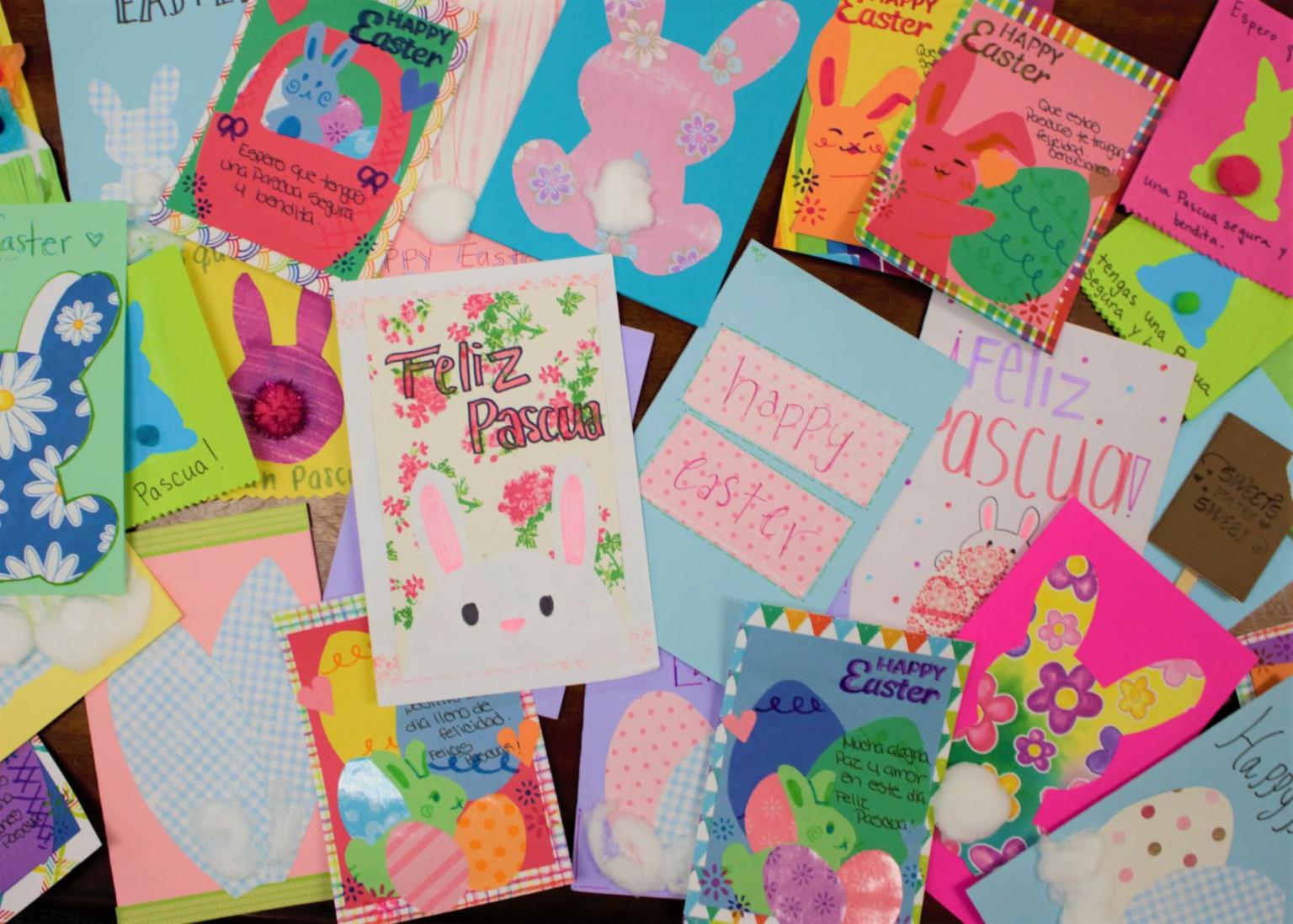 1,200+ homemade Easter cards uplift guests
Virtual volunteers in SVdP's Help from Home program created cards to accompany Easter meals
This Easter, St. Vincent de Paul fed not only body but soul as well with 1,200 Easter cards accompanying some of the holiday meals and treats served at SVdP's dining rooms, Resource Center and Ozanam Manor transitional shelter.
Handmade with love in both English and Spanish by SVdP Help from Home volunteers, the cards carry on the nonprofit's handwritten note tradition to demonstrate deep care while offering human connection and dignified service.
"It may seem small, but kindness and words of hope can go such a long way," said Community Engagement Liaison Morgan Dircks, who heads up SVdP's Help from Home program. "One card's words of encouragement may turn someone's day around or inspire them to make a positive change in their life."
Just last summer that was the case for one of SVdP's Emergency Heat Relief Shelter guests, Louise.
"Many times, those who are experiencing homelessness and those we serve struggle with isolation and loneliness, and don't have others to turn to in tough times," Morgan said. "These cards and projects offer some encouragement and serve as a reminder that they are not alone."
Since the birth of the Help from Home program in 2020, SVdP virtual volunteers have made thousands of projects, including greeting cards, and mailed or delivered them to SVdP. That's one of the things Morgan loves most about the program – that it invites people from all over to serve regardless of where they're located, age, availability, group size, abilities and/or preference to be on campus. She's seen engagement from girl scout troops, cub scouts, churches, schools, corporate groups and individual families.
"It's really an all-encompassing experience that helps us ensure our guests feel a sense of love and belonging," she said.
This year's batch of Easter cards were the product of more than 20 Help from Home volunteer groups and individuals. With Mother's Day and Father's Day quickly approaching, Morgan hopes more volunteers from places near and far will consider pitching in to bring joy to the guests SVdP serves.
"It's important that we honor these holidays for our guests, just like we would do with our loved ones at our homes," Morgan said. "We all know the joy of opening a card from a loved one and thanks to our Help from Home volunteers, all our guests can experience that same joy!"
While SVdP's on-site volunteer opportunities have returned and are in great need of people, we know many community members are still interested in volunteering from home. We welcome all kinds of help, so sign up today to be a virtual volunteer and receive a SVdP Help from Home guide.
Sign up today to volunteer from home
We welcome all kinds of help, so sign up today to be a virtual volunteer and receive a SVdP Help from Home guide.