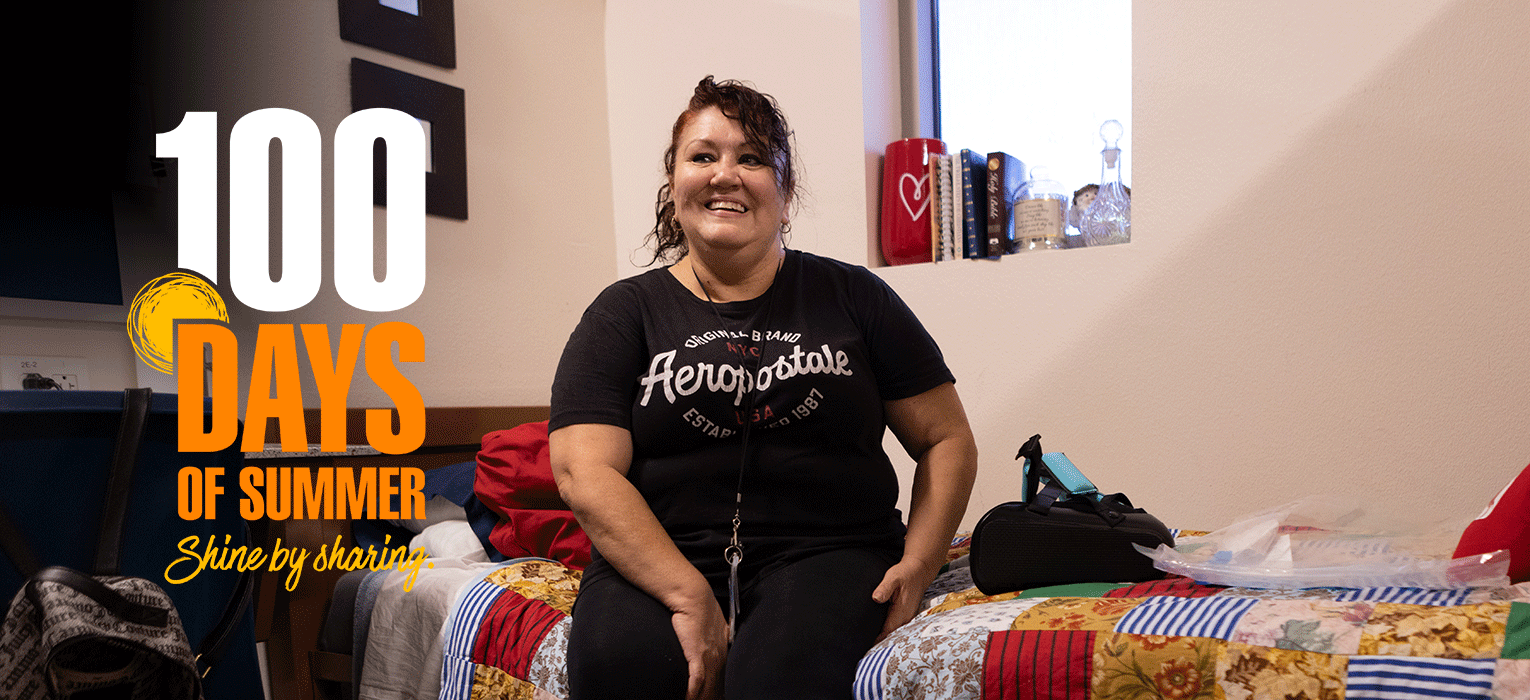 Calling for help with shelter and homelessness prevention needs this month
SVdP's 100 Days of Summer campaign zeroes in on housing needs this August
Triple digit temperatures make shelter and housing critical as people look for ways to survive and escape Arizona's life-threatening heat. That's why this August, St. Vincent de Paul turns the attention of its 100 Days of Summer campaign to support shelter and homelessness prevention efforts.
"Tackling our homelessness crisis is going to take a multi-pronged approach," said Shannon Clancy, SVdP's Rob & Melani Walton Endowed CEO. "And two of the best ways to keep people off the street and out of the heat are: 1) To offer them shelter space to come inside and 2) to keep people inside in their own homes with rent and utility assistance."
Running through Labor Day, SVdP's 100 Days of Summer focuses on a different high-need item each month that helps combat the effects of extreme heat, summer food insecurity, and exposure to the elements.

June = Water
July = Food
August = Shelter/Housing
In 2022, Maricopa County recorded 425 heat-associated deaths — a significant number of whom were people experiencing homelessness. Equally concerning are families behind on bills being forced onto the streets mid-summer when the heat is life-threatening. Low-income families have already faced typical summer challenges with higher utility bills and are coming out of a season of increased childcare costs and limited access to school food programs.
It will take a community of collective care to help keep people off the street. Last week, SVdP saw such community partnership in action with the City of Phoenix and Steel+Spark installing an X-WING converted shipping container shelter unit at SVdP's Washington Street shelter. Residents are expected to move into the 20-bed shelter in the coming days.
"We are grateful for the opportunity to help serve those experiencing homelessness through our partnership with the City of Phoenix and St. Vincent de Paul," said Kathleen Santin partner Steel+Spark. "The X-WING is a dignified, non-congregate housing solution requiring no onsite construction or connection to local utilities. Solar powered by day, battery powered at night, the X-WING is quick to market, delivered assembled and ready to occupy."
By staying engaged and supporting SVdP's 100 Days of Summer campaign, the community can help SVdP respond to the homelessness and housing crisis one person and one household at time.

Give someone a bed tonight
Help seniors, veterans and adults with disabilities find a safe place to lay their heads while they find permanent housing. All donations will be matched up to $15,000 thanks to generous SVdP supporters!